When you want to place an order with a supplier, the Par-levels and minimum inventory are very useful tools. In this article, we'll show you the ins and outs of using Par- levels in Apicbase.
First of all: what does Par stand for? 'Periodic Automatic Replenishment', or simply said: the amount of an ingredient you want to have in stock after ordering.
In Apicbase it's possible to set a Par-level for every ingredient in your library. Once you've put up all the levels, ordering through Apicbase will become even easier.
Next to Par-levels, you can add a minimum requested inventory for each ingredient. The moment your stock goes below the minimum requested inventory, Apicbase will send you a warning through email.
Setting up a Par- and minimum inventory
There are two ways to set up Par- and minimum levels for your ingredients:
1. Manually (one by one)
First, go to the edit-mode of an ingredient in your library and click on ''Inventory''. Here, you can set up a Par- and minimum level for every package in your different outlets.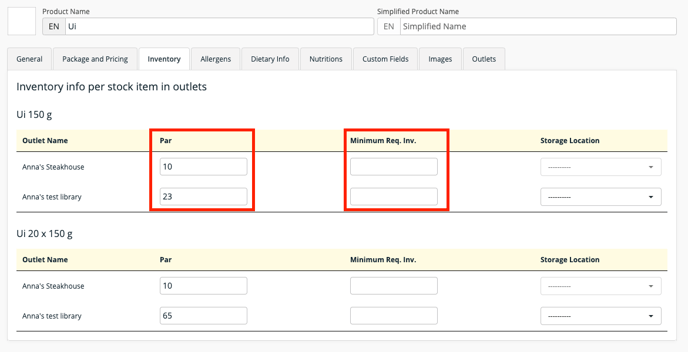 Save the ingredient. Your Par-levels are now available when making an order. You will get an alert through email when your stock is below the minimum requested.
2. Through an Excel-import (in bulk)
In ''Settings'', go to ''Outlets''. Click on ''Edit Outlet Settings'' in the outlet of your choice.
Now, click on ''Inventory'' and download the stock item list.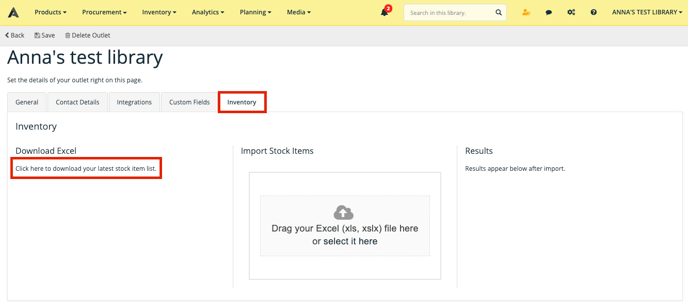 Open the Excel-file and fill in the Par- and minimum levels for the ingredients in this outlet.

Save the file and import it.
The Par- and minimum levels will now automatically be visible in your ingredients.
Using Par-levels when ordering
Ready to make an order? Then go to the Procurement-module and click on ''Create an order''. When you click on the ''To Par''-button, your order will be auto-filled to reach your Par.