The dashboard is the heart of your Apicbase food management platform. From your dashboard, you are able to see the status of your database in a glimpse.
In the top left-hand corner:
You will see the different modules in light yellow: product management, procurement, inventory, sales, planning, and media. By clicking on the section names, you can unfold the other options that are categorized in the sections.
In the top right-hand corner:
On the left, you find the settings button (the wheel). Here you can adjust the library, user, outlet settings,...
The support button (the question mark) in the middle gives you access to the support center, you can enable/hide the chat button or you can submit a support ticket here.
Next to the support button on right, you will find a library button. Here you can change to another library if you have access to multiple libraries, and sign out of the dashboard.
In the middle of the screen
Earning & Cost of Goods Sold (CoGS): Here you find an overview of what the costs were of all the sold items in your outlets and were registered in Apicbase. You also get the percentage of this cost in comparison to your revenue for the day before or on a weekly or monthly basis.
Inventory Insights: The total stock value and value per outlet can be consulted here.
News and Updates will appear underneath if there are any available.
Quick Outlet Links: Here you can select an outlet and have quick links to all the features that are outlet specific.
In the Latest Orders section, you find an overview of all the orders in progress, ordered and delivered per outlet.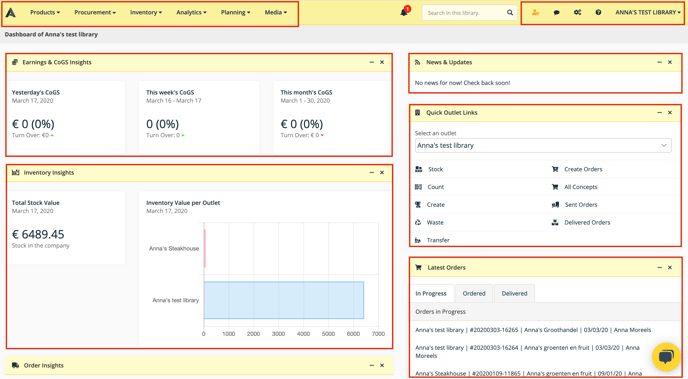 Order Insights: Stay up to date with the status of your orders:

Outstanding order value

: Total value of all the outstanding orders of all outlets combined.

This Month's Order Value

: Total value of the orders that were placed this month.

Last Month's Order Value

: Total value of the orders that were placed last month.

Order Value per Outlet

: Total value of the orders in the current month per outlet.

Product Insights show you the number of recipes, ingredients, menus, images and photo albums in your database.
If your colleagues left any comments on recipes or menus, you will see them in the Latest Comments block.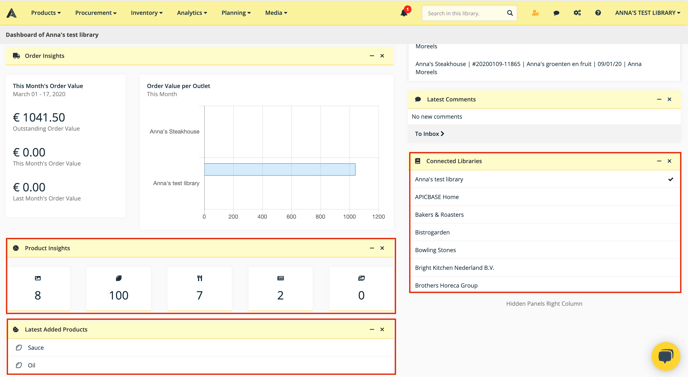 The last ingredients and recipes that were added to your library will appear in the Last Added Products section.
The libraries you are connected to are shown in the Connected Libraries section.
Your latest images will be displayed here in the section Latest Images.