Apicbase gives you the possibility of inputting translations for your recipes. It makes working with multilingual staff easier and more efficient. This article shows you how.
For recipes, you set translations for the name of the recipe and preparation steps.
Adding the translation for a recipe name.

Go to "Products" in the menu bar on top of your screen.
Click on "Recipes".

Click on the recipe name and select "Edit" to go to edit mode.
You can click on the button to the left of the recipe name.

A popup will open where you can enter the translations. Here you fill in the translated recipe name for the languages you have set in your library. In this article you can learn how to add translation languages to your library.

Click on save and the translations are saved.
When you click on the symbol to the left of the recipe name in detail view, you can see the translations of the names that have been entered for this recipe.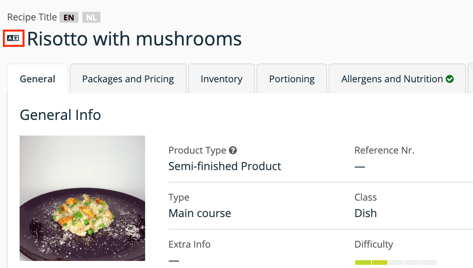 Adding the translations for the preparation steps.

Scroll down to the step by step methodology in edit mode.
If you click on the language button to the left of the preparation step, you will get a popup where you can fill in the translation for this step of the preparation.

Click on save.
Repeat this step for every preparation step.
Users will now see the preparation steps if they select this language as the content language in your Apicbase profile. Learn more about setting this language in this article.