In this article, you can discover how to add a new user to a library or outlet.
Each user, Library and Outlet user, need to be assigned to a role and specific permissions! Otherwise the user might not be able to work in Apicbase.
Add library users
To add users to your library, in order for them to be able to access the library with their own account, follow the steps below:
Go to "Library Users" in the "Settings" section in the navigation bar. You will now see an overview of all the users that are already connected to your library, along with their permissions.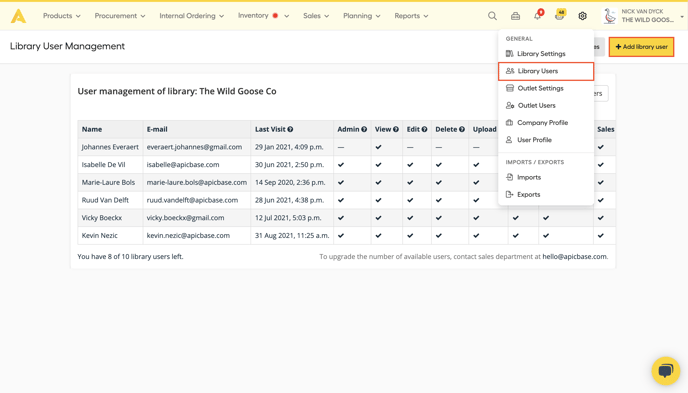 To add a user, find the '+add library user' on the top right above the user list. A pop-up will appear.

Fill out all the details that are asked: first name, last name and email address. Make sure the email address is correct, as the new user will receive an activation email on that email address.
Click "Save". The user will be added to the user list, but not be activated yet. The new user will receive an email that contains an activation link to activate the account and set a new password. Once the password is set, the new user can log in to apicbase.com.
In case the newly added user does not receive any email (also check the spam folder), you will see a little lock behind their name. By clicking on this, you will also be able to see the activation link. Using this link will also activate their account.