If you have several outlets, sometimes stock is transfered from one outlet to another. To keep your stock in Apicbase up to date, you register these actions with very little effort.
Click on "Transfer" in the "Inventory" module.
Select the outlet from which you want to transfer stock items.
You will see an overview of all the transfer events that have been recorded for this outlet. If you click the button, you can see the details of this transfer event.
Click on "Record Transfer" to register a new transfer event.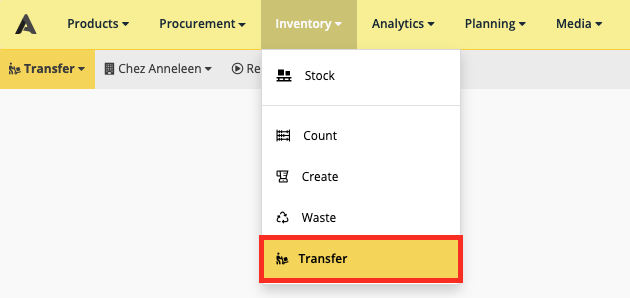 Select the Outlet to which you want to transfer the stock. You can also change the date and hour of the stock transfer.

Fill in the stock item name, the quantity and remarks (optional).
Click "Add".

Repeat this for every stock item you want to transfer.
You can click the "Remove" button in the line of a stock item to remove this item from the list.
Click "Save" to finish the transfer event.

Cancel: Go back to the overview and cancel the whole transfer event.
Reset: Delete the items in this event and start over.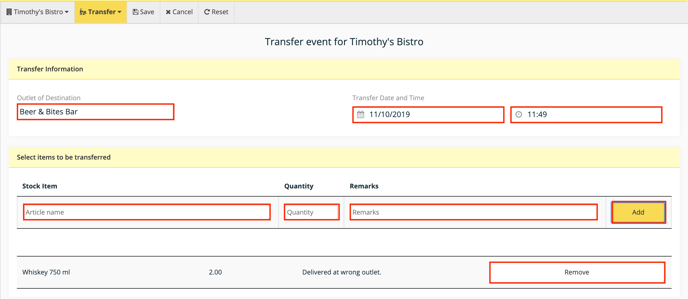 A popup will appear: click on "Ok" if you want to finalize the event.
You will see the registered transfer event added to the overview.

The items will now be depleted in the stock of the first outlet you selected and be added to the stock of the outlet you selected afterward.
💡Tip: As with registering orders, it is important that all transfer events that have actually happened before a stock count, are registered before this count. Otherwise, your stock in Apicbase will not be correct.