How to use the live chat?
You might have noticed that the chat icon has been removed. Luckily, the live chat is still available.

As we would like to give you as a customer the best possible experience possible with Apicbase, we got rid of the live chat icon which was always visible. We're doing this in order to improve screen real estate, as well as to improve your experience on mobile devices.
Obviously, we're still available on the live chat. Here's how to chat with us right now:
Click on the question mark in the top - right corner of your screen.
Click "Live Chat".
See you on the chat!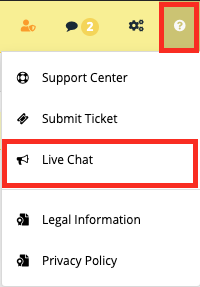 When you're done chatting, just click on "Hide live chat" and the chat will disappear.