The easiest and fastest way to set up your ingredient's packages and pricing for ordering, inventory and sales analysis, is by using our "Ingredient's Packages" Excel template. This article shows you how to use this template.
There are two excel import files that manage ingredients data: "Ingredient" Excel import and "Ingredient's Packages" Excel import. The "Ingredient" Excel import is used to create ingredients with general information like allergens, nutritions, etc. Click here if you want to read up on this file.

Adding packages and pricing data to these ingredients is done with the "Ingredient's Packages" file, which is discussed in this article. If you want to learn more on importing ingredients, read our extensive guide on this topic.
Go to your ingredient list by clicking: Products>Ingredients > Import > Ingredient's packages
On this page, you can download an empty template (recommended if you are creating new ingredient packages) or a sheet with all your active packages filled in (recommended if you are updating existing ones).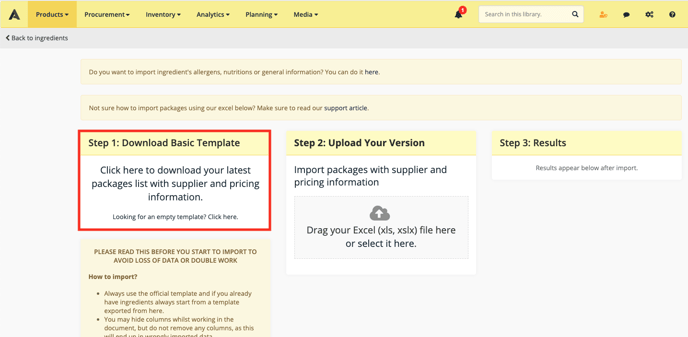 Now that you have downloaded the template, you are ready to start. If you want to learn more about how to fill in the template, check out this article.
Once you are done adding package and supplier info, save the file, and return to the Apicbase Manager import page for the ingredients file.
Locate "Step 2".
Drag and drop or upload the Excel file onto the designated area.
The upload will begin automatically.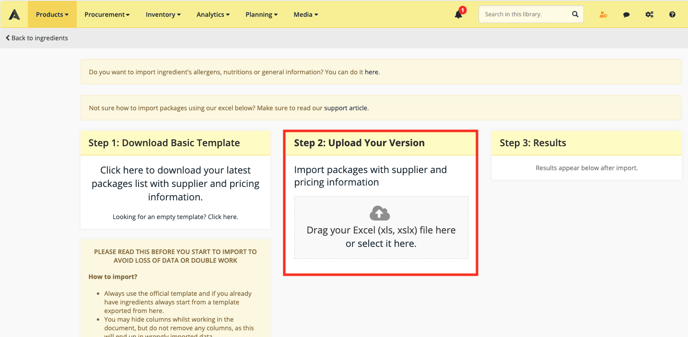 While importing the file, you will get a popup that lets you either stay on this page or go to the "Import Page".