The easiest way to start importing your ingredients into Apicbase is to import them via the Excel template which you can find in Apicbase. Follow the steps below to download the template and import your ingredients.
Apicbase allows you to have multiple packages per ingredient. This makes our software very flexible, but it also means you have two Excel import files because you can have more packages for one ingredient. You have an ingredient-file with allergen information, ingredient category and subcategory,... and a file for package information like quantity, unit, supplier, price,... If you want to learn more about the basics of importing your ingredients, first check out this starters guide on ingredient management. If you want to learn more about the package and pricing info import file, check out this article.
Go to "Ingredients" in the Product Management section in the navigation bar.
Click on "New" in the gray ribbon.
Click on "Import Ingredients" to import ingredients through an Excel file.

You will be redirected to a new page with a 3-step plan to import your new ingredients. download the template from "Step 1".
When you downloaded the basic template, you can then open this with Microsoft Excel and add all products to the Excel file. Be sure that you fill in the information on the new ingredients in rows with no Apicbase ID filled in. The Apicbase ID is a unique ID for each ingredient created by Apicbase. If you want to read more on the Apicbase ID, click here. Tips on how to fill in the template can be read in this article.

Once you are done adding products to the file, save the file, and return to the Apicbase Manager import page for the ingredients file.
Locate "Step 2".
Drag and drop or upload the Excel file onto the designated area.
The upload will begin automatically.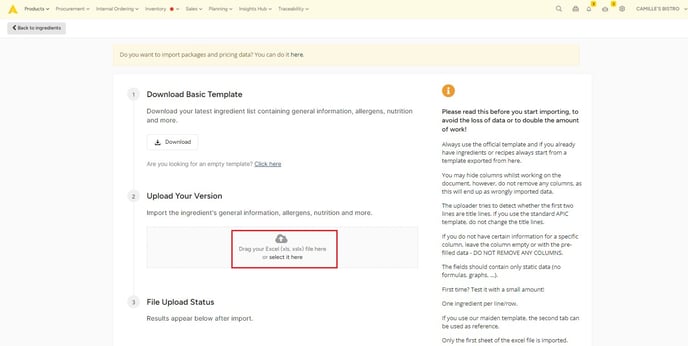 While importing the file, you will get a popup that lets you either stay on this page or go to the "Import Page".

On the "Import page" you will find an overview of all your imports including the latest. It will show you:

Date of the import
Name of the imported file
Type of the import (ingredient or package file)
Description of the import
Requested by
Progress of the upload
Error file: Here you can download the ingredient import file with only the entries that have errors. You can download this file, correct the errors and upload it back via "Step 2" the original import screen.
The imported file
Details: When clicking "Show", you will get the details on errors or warnings from this import. It will say what happened on which row of the import.

When you have uploaded the import file (and corrected and uploaded the error file if necessary), the ingredient information is imported into Apicbase. You can add package information using the package and pricing template.