For all dark kitchens that are using Deliverect: we've got some great news for you. You can connect your Deliverect to Apicbase and get access to the Analytics module, get stock automatically updated and much more.
💡This integration is only available for restaurants that aren't using a POS system. If you use a POS, Apicbase will use the integration with the POS as the source of truth for the sales tickets of your kitchen.
About the integration
Through an API, Apicbase gets the following information from Deliverect:
Your products: so you can link them to your items in Apicbase (read in this article how to).
Your sales tickets: so your stock will be updated and you have insights in your foodcost, margins and sales analytics.
Apicbase gets this information from Deliverect automatically after a nightly sync, but you can also update manually during the day. You can do this by going to the sales analytics module > choose the correct outlet and click on the button next to "Last synchronization".
Setting up the integration
To set up the integration in your library, first, go to your outlet settings.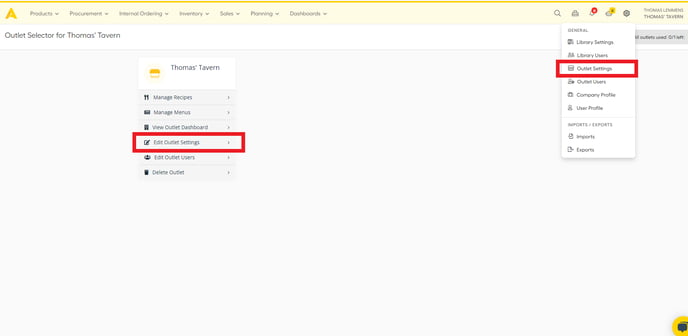 Click on the tab "Integrations" and choose Deliverect in the drop-down menu. Fill in your Account ID and Location ID and click on "Save".

Now you can start linking the products from Deliverect to your Apicbase items. You can find a manual on how to do that in this article.
After linking your Deliverect items to your Apicbase recipes and ingrediënts, your integration is set up and ready to use!