A useful tool in Apicbase is the possibility to create menus: seasonal menus, lunch menus, group menus, etc. The creation of menus makes it possible to compare financial information of different recipes, to generate allergen cards and so on.
In the left side column, click "Menus".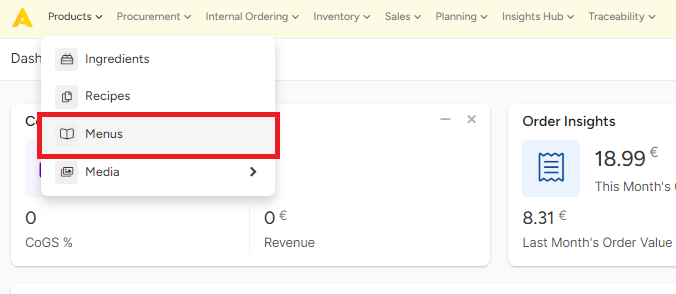 Click on "New", next click "New Menu".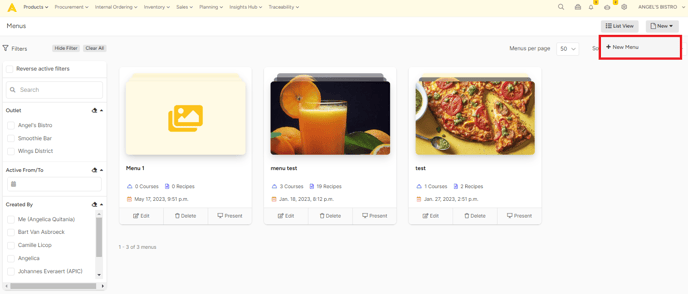 On the "General"-tab you will be able to enter all the details of your menu, e.g. name, description, season,...

Next, you can add courses to your menu, by clicking the "+Add Course" button highlighted in the screenshot above.
When you added a course to your menu, you can add recipes out of your library. Do this simply by typing in the name of your recipe in the box highlighted in the screenshot below.

Save the menu by clicking on "Quick save" to stay on the same page or by clicking on "save and go to..." to proceed to your following action.
You can now drag & drop recipes from one course to another, you can add and change recipes to your courses. You can also remove courses.
In the "Financial"-tab, you can specify information about the price of the menu, your desired profit margin and the VAT-percentage you wish to use on this menu.
The "Outlets"-tab is there to select which outlets sell the new menu, in case your business has more than one.

Menus are useful because of multiple reasons. Once the recipe is created and saved, new tabs will appear in the menu detail window.
"General": Here you find general information about the menu (name, description, when the recipe should be active,...).
"Allergens": In this tab, you can find all the information regarding allergens. Click here to learn how to generate allergen cards for your menu.
"Total Menu Cost": Under this tab, you'll find detailed financial information about the menu.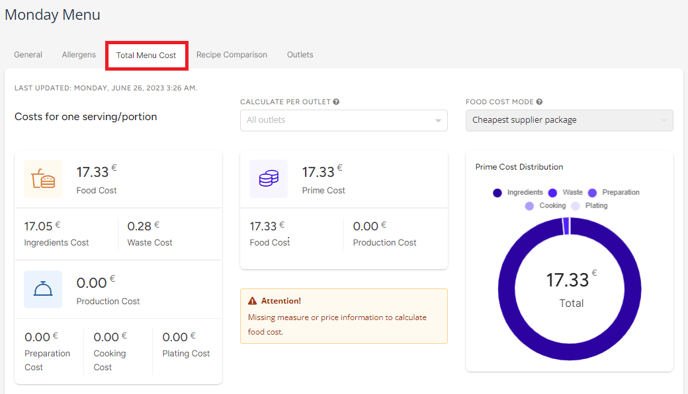 The profit and margin calculation in this module works the same as for a recipe. You can however only use this with a fixed menu eg. start/main/dessert. If you have different options to choose from, the profit calculation will not work.
"Recipe Comparison": This is also a very useful feature of the software. You can compare the costs and (target) profits of every recipe on the menu.

'Outlets': If your business has more than one outlet, you will see in which of the outlets this recipe is available.

Tip: You can make other menus than a regular starter, main, dessert menu. If you make a menu for all your cocktails, for example, you can compare the profit margins of all your cocktails and generate an allergen list for them.