APICBASE works with a central library, but you can allocate recipes to outlets very easy to manage multiple outlets from one central system. In this article you will learn how to make your recipes available for the right outlets.
Go to the recipe overview in the Product module.
Then, click on the recipe you'd like to assign to an outlet. You will now go into the recipe detail page.
Next, you select the 'Outlets' tab. This tab lists the outlets that the recipe is shared with. Click on 'edit' to assign a new outlet.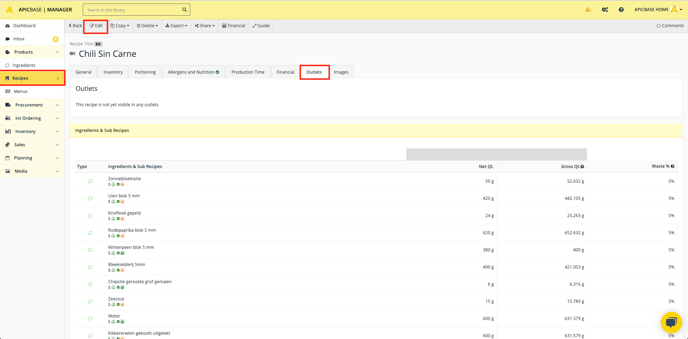 You will now see a list of all outlets available in your library. Check the boxes left next to the outlets that should see the recipes in APICBASE.
End by saving the changes either by clicking 'Quick Save' or the 'Save And...' button. You now see that the recipe is available for the selected outlets.