Apicbase has many great dashboards to give you helpful insights. Maybe one of the most simple, but definitely a very interesting one is the current inventory dashboard. Read this article to learn how it works.
To go to the current inventory dashboard select "Dashboards">"Current Inventory Dashboard".


You will see the following screen.


First start by filtering the data using the following filters:

Outlets
Accounting category
Search on (specific ) stock item
Positive/negative stock

If your data is filtered, you'll get the following numbers and Graphs:

Current stock Value: total for all outlets
Current Negative Stock Value: total for all outlets

Current stock value per Outlet: To the left of the 0 you get the negative value, to the right you get the positive value.
Stock Value Distribution: Per item, you get a block relative to its stock value. The bigger the block, the higher the stock value. The color indicates the Accounting Category of the item.
Current Stock Value per Outlet Donut Chart: Relative percentage of the total stock value divided by outlet.
Current Stock Value per Accounting Category: Relative percentage of the total stock value divided by Accounting Category.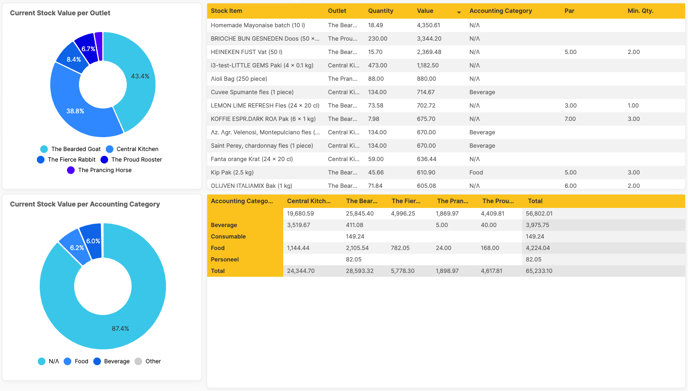 Stock item list: For every stock item you'll get:

Stock Item (name)
Outlet
Quantity
Value
Accounting Category
Par
Min. Qty

A table with per outlet the stock value divided by accounting category.
Negative stock is of course never correct. This means that something is not going right for specific items. Negative stock indicates that there is more going out of stock (sales, transfer out, waste) than there is added (orders, transfer in). If you have a negative stock value, you have to check the items that have a negative stock value and check if all inventory movements are registered correctly in Apicbase.
On the bottom of the dashboard, you have a small button that lets you export the total dashboard.