In the Sales Analytics module of Apicbase, you can generate very interesting information regarding your sales. It is is also effortless to export this data in different formats. This article shows you how.
There are several ways of generating a sales report in Apicbase.
First you have to filter the data you want to use for the sales analysis. If you want to read more about filtering sales data in this module, read this article.
Second, go to the Sales Analytics module by clicking the "Sales Analytics" button in the Sales module and select the outlet for which you want to export the sales analytics data.
The first way to export the "Sales Analytics" is by clicking the button in the "Select Data" panel. This will generate an Excel file with the sales report.

If you generate the export this way, you can find the file in the export page in Apicbase. After generating this document, APICBASE will ask you if you want to go to the export page or stay on this page. You can go to the export page afterward by clicking the

button and select "Exports".
The second way of generating the export is by clicking one of the buttons on the bottom of the page. Here you can choose if you export the data as an Excel, PDF or CSV file. These files will be downloaded in your browser. You can also make a copy of the data or print it.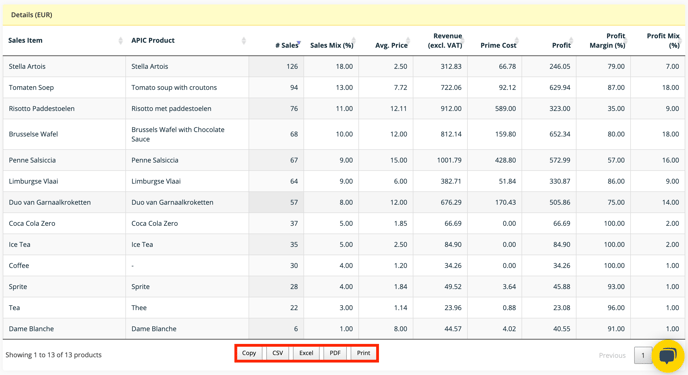 You can read more about interpreting the sales analytics data in this article.